by: David Purdum

Head Coach Bob Stoops recognized the stress the up-tempo, no-huddle put on a defense. The writing was on the chalkboard.
The veteran Sooners were already comfortable with the plays. Now, they were just being asked to execute them at a faster pace. Adjusting the offensive scheme to implement the no-huddle was a natural progression and a perfect fit. The result, that year, was one of the most prolific offenses in college football history, a Big 12 title and a trip to the BCS National Championship Game. All came as a result of the Sooners successfully tailoring their offense to fit their personnel.
"It always starts with personnel," Norvell says. "We always look at who our strongest players are, our best 11, and try to base our biggest personnel grouping off of that. That season, we used 12 personnel the most, two tight ends, two wide receivers and one back. But we've also used 11 personnel, three wide outs and one tight end and one back. And then last year we were more 10 personnel. It really depends on the strength of our players. I don't care what level you are at, high school, college or pro, you always have to start with who your best players are and how you can get them on the field at the same time."
AFM interviewed six coaches from the college and high school levels about different ways to adapt their version of the spread to fit personnel. All of them agreed that wholesale changes are rarely required and emphasized the importance of staying within the framework of your scheme. Instead, you're simply looking for the best ways to tailor your offense to your players' strengths.
Having a diverse coaching staff with a variety of experience in different systems is crucial, according to Urban Meyer.
"I don't want a coaching staff that thinks exactly like I do," said Meyer. "My objective is to hire a staff with a lot of diversity. I don't want to hire guys who are all robots. I want some guys with different ideas who have experience with the no-huddle offense or with a two-tight end set. That way, if we develop personnel in different areas, we'll be able to capitalize on that. "Instead of scheme, I'm worried about personnel," he added. "I'm looking to see who's earned the right to touch the ball. We build our offense around that."
There wasn't a lot to build around, Meyer says, when he first arrived at Ohio State, especially after running back/wide receiver Jordan Hall went down in the offseason. Quarterback Braxton Miller began the season as the one player Meyer knew could make plays, so he adapted by using the single wing. Eventually, the Buckeyes' tight ends developed into playmakers, something Meyer says wasn't the case in the spring.
"We studied New England, who had had success utilizing two tight ends," Meyer said. "When we had a great fullback, we studied what other teams had done. There's plenty of material out there; you just have to find it and see what other teams have done with different personnel. It takes time and it takes effort, but obviously it's the right thing to do."

Tailoring to Your Quarterback


Thornton Academy in Maine was poised for a big season. Things changed in their final preseason scrimmage, when the Trojans lost their all-conference quarterback to a knee injury. Head Coach Kevin Kezal adapted to his personnel in a unique way that saw him utilize three players at quarterback. He didn't, however, make dramatic changes to his scheme. The result was a trip to the state championship game.
Kezal used a 6-foot-4 pocket passer in passing situations. He inserted a wide out as a wildcat player to run jet sweeps, power plays and off-tackle, and also used a Z-back to run his option series, including the zone read and some double option. "Teams knew when one of the kids lined up, but all of a sudden they had to make an adjustment. And if we went no-huddle, it made it hard on the defense," said Kezal. "We tailored it to each of the QBs' strengths."
Kezal said the three-quarterback system worked because he stayed within the framework of his spread offense. He divided up practice reps among the quarterbacks, focusing on only the specific plays that they'd be running in games. The players didn't have to learn new plays. "For us, it's zone read, the power scheme, it's the wide zone scheme," Kezal explained. "Whatever we do with whatever player we use, it's going to be within the framework of that. You don't want to come up with new schemes. With the amount of practice time it takes to rep it and get good at it, I don't think it's worth the time commitment. I think you want to stay within the framework of what you do. I think that what's the spread (offense) has allowed teams to do."  (See Diagrams 1-3)
When tailoring his scheme to his quarterback's strengths, Norvell examines arm talent and mental capacity first. "Your offense, first and foremost, has to be what your quarterback can handle. You have to look at what he can handle mentally, scheme-wise," said Norvell. "Same thing with arm talent: Does he have a quick release for the short passing game? Can he make all the strong intermediate throws? Then, if he's athletic, you'll want to get him outside the pocket with sprint outs and bootlegs.
"Overall, we're always trying to find ways to stay simple," he added. "It's much better to simplify your formations and get really good at the things you can do out of that than be too complicated and try to do too much. We are constantly trying to find ways to simplify so our players can execute."

Pinpointing Playmakers

As Meyer suggests, sometimes adapting scheme to personnel is simply about ball distribution, pinpointing which players deserve to have the ball in their hands and finding ways to get it to them.
 At Cedar Park High School, former Texas 4A Division I state champion, Head Coach Joe Willis attempts to identify players with the size and versatility to create mismatches. "That's what offensive football is all about, creating mismatches," Willis said. "As football kind of moves toward taking advantage of the tempo tactics and the spread tactics, I think we're going to see a lot more of the versatile player with the bigger body that can play in the middle of the field and maybe unattached to the line. That creates a mismatch for linebackers and it's also a guy who's close enough to the box to where he can match up a linebacker. That, to me, is where the game's headed as far as personnel and use of types of personnel groupings."
Willis also looks for players with specific types of speed rather just straight-line speed. He looks for athletes with transitional speed, who can tuck the ball, gain their balance and burst to full speed. He also wants to see players with the ability to run at full speed while simultaneously tracking the football. Efficient change of direction is also key, says Willis. When it comes to the player's size, he believes reach can be more important than height.
"The combination of all those is where we begin when trying to create mismatches," he said. Willis said he's seeing more and more teams utilize H-back-type players, who can fill multiple roles and create mismatches in the middle of the field.
"With more defenses downsizing to contend with the spread offenses, athletic players with big bodies like Texas A&M had last year with Ryan Swope are becoming more valuable," said Willis. "You cause some serious mismatches by featuring those guys and using them on the outside, unattached to the line."
At Baker High School, past Oregon 4A state champion, coach David Johnson switched from an option offense to the spread eight years ago. It allowed him to utilize the "basketball player-type of athletes" who were not touching the ball as much in his option attack. Now, Johnson makes a point to make sure to get the football to his weapons on the outside.
"The bottom line is that we wanted to start taking advantage of the athletes we had on the outside," Johnson said. The evaluation of Johnson's personnel begins as soon as the previous season ends and goes through the summer. Johnson and his staff are looking for players, who are coachable, are competitive, are good communicators and are consistent.
"We spend a ton of time on research and development," said Johnson. "We discuss it in January and then whittle it down to a couple of ideas that may be the necessary ingredients to our tweaks to our system."
For example, leading up to this season, Johnson recognized his team was a little under-sized and planned to throw the ball more and work the zone read into the offense more frequently. Last season, they were much bigger and didn't need to "out-slick" defenses. A few years ago, he knew he had a star tailback and emphasized getting him 25 touches a game.
 
Adapting to Your O-Line
 
A former high school coach, Northern Illinois head coach Rod Carey knows you're not always blessed with a big, physical offensive line. But there are ways to adapt. Angles are the key, he says.
Northern Illinois began one season with an inexperienced but athletic offensive line. Carey, then the Huskies' offensive coordinator, tried to take the pressure off his young unit with a quick passing game.
"And when we ran it, we wanted to use our angles," said Carey, who was promoted to head coach in December, after coach Dave Doeren was hired at North Carolina State. "When you have a bigger offensive line, you're going to try to take the angles back to the defense. So if they have good angles on you, you try to what I call road-hog them out of those angles. You can really distort a defense doing that."
The angles become even more important when your O-line is undersized, says Carey.
"I don't care whether you're running the wing-T, the veer, spread or I-formation, you have to use your angles," Carey said. "When a defense is playing an even front and you have a chance to down block on a three-technique or down block on a six-high, you do it. You don't worry about necessarily anything else, because if you can't move that front and you can't displace them with angles, then you're not going to have much very long. And, in high school, you might be playing with 220-pound guards. And you don't want to be blocking that 260-pound three-technique all day. You want to let your tackle who's 240 come down on him and try to do things like that with your scheme."       
From the NFL to high school, tailoring your offense to match your players' talents is without question one of the most important parts of coaching. There are infinite ways to accomplish it, but the coaches we interviewed all agree that keeping it simple is the best way. Tweaks like adding a new personnel grouping or inserting versatile players into different positions to create mismatches are more effective than wholesale schematic changes.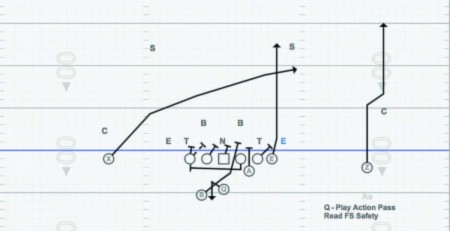 Diagram 1: R HIP 442 Vermont X Cross – Thornton's best first down play-action pass. Zone is faked at the frontside linebacker while the frontside OG pulls. The QB then reads the frontside safety and throws either a seam or crossing route.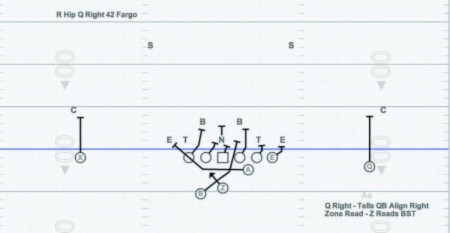 Diagram 2: R HIP Q Right 42 Fargo – A zone read play run by the Z-back. By tagging the formation Q Right, the QB and Z-back would switch positions.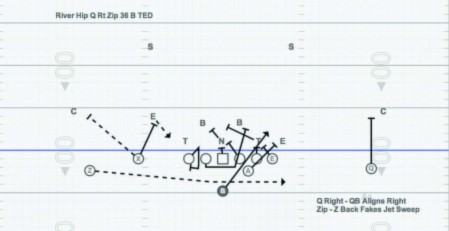 Diagram 3: River Hip Q Rt. Zip 36B Ted – A power play out of the Wildcat formation. The Z-back fakes the jet sweep and the B-back runs the power play. This keeps the frontside DE honest and makes the kick out block easier for the A back.